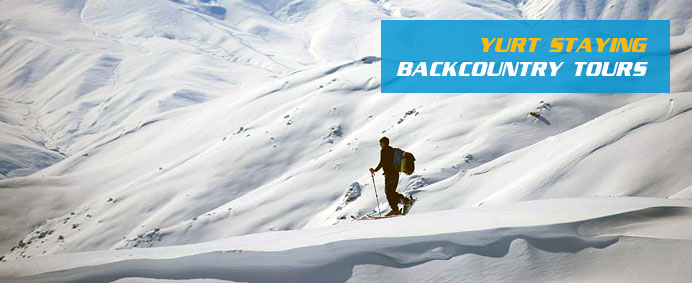 The yurt lodge based in the gorgeous Ak-Suu valley! Endless slopes for advanced and intermediate skiers and snowboarders, full board meals, daily hot sauna and so much more.
Feel the unique pleasure with our yurt based living backcountry experience in Kyrgyzstan. Only in winter and only 90 days starting in the mid of December.




























---
The fabulous Aksuu gorge where we set up our yurt camp provides an unlimited amount of gorgeous lines and slopes with and average 3ft. (90cm) of pow! National and custom menu foods, professional guides and a really hot banya (sauna). Snowmobiles to explore the distant areas and mountains. Total absence of civilization, yep not even a mobile network coverage. Relax and explore the backcountry letting us take care of everything else.
Location: Google maps | OpenStreet terrain map
Lodge altitude: 2600m
Closest highest hike: up to 3800m
Distant highest hike: 4200+ m
Skiing/splitboarding level: advanced to expert, but we have a choice of lines for intermediate level.
Short program of the tours
| | |
| --- | --- |
| Day 1 | Picking up your group at Karakol or Aksuu village, Group and gear haul to the yurt camp location with snowmobiles (2600m). Skin up to nearby slopes for skiing or have a rest. Hot drinks, lunch and dinner. Sauna on request. |
| Day 2 until the day out | Daily backcountry skiing and splitboarding all around the valley (skiing from 3800+m). Exploring the distant valley slopes with snowmobiles (skiers towed with rope). Daily sauna on request. |
| Day out | Fight your desire to stay and ski more. Go for a morning touring/skiing. Pack your gear and stuff. Gear and group haul down to the village. Transport to Karakol available on request. |
Pricing and bookings
Group leader special discount is available.
Guiding service pricing
Only a certified avalanche safety and rescue group leaders are allowed to ski with their groups at the Aksuu Lodge areas. If you are a self guided then we highly recommend you to book IFMGA certified guide while booking your staying.
| GROUP SIZE | GUIDING SERVICE |
| --- | --- |
| 1-2 persons | 1 guide required: $150 USD per day |
| 3-4 persons | 1 guide required: $150 USD per day |
| 5-8 persons | 2 guides required: $300 USD per day |
| 8 or more | contact us |
Choose the desired amount of nights you want to stay at our lodge. If you want to stay for a week or more then go for other packages to get a discount.
| PERSONS PER GROUP | PRICE PER PERSON |
| --- | --- |
| below 5 persons * | $150 per night |
| 5-9 persons | $140 per night |
| 10 or more | special price |
* minimum 2 persons for 2 nights
---
Package #2 6 nights / 7 days
Additional 5% off total staying quote is applied for this package.
---
We also have a special discount for the Group Leader which depends on the group size and can reach 60% off the original package price.
| PRICE INCLUDES | PRICE DOES NOT INCLUDE |
| --- | --- |
| Karakol to Aksuu transfer | Any flight tickets |
| Group and gear haul to the camp with snowmobiles | Bishkek-Karakol-Bishkek transfer (available on request) |
| Accommodation at the yurt lodge | Sattelite phone |
| Full board meals | Insurance |
| Sauna and ice-cold river | Avalanche gear (available on request) |
| Consultations on the routes and slopes | |
| Gear and group haul down to the village | |
| Guides for GUIDED packages only | |
---

Aksuu yurt lodge FAQ
The camp/lodge location
The Aksuu yurt camp located at the similar name Ak-Suu gorge at the elevation of 2600m. The lodge is around 16 km away from the village into the valley. See satellite image.
How do you get to the lodge
Check this page with detailed instructions
The terrain
Pretty much various slopes and descents available. You can skin up to 3800+ meters and ski rockie drops, smooth lines or couloirs all around the valley. The shortest skin track which takes about 2 hours provides a few options to ski two different sub-valleys and ski down right to the yurt site.
What Skiing/Snowboarding level do I need at your area?
The most terrain accessible and recommended only for intermediate+ and above freeride/backcountry skiing levels. If you are an intermediate/advanced at groomed but never tried freeride/backcountry then it is not recommended to start with serious lines.
How many persons can fit into the yurt?
The yurt can comfortably fit 10 persons. If you have a larger group we can arrange more space for you. We will never connect two different groups at the same time in one yurt if the total guests amount exceed 10 persons. We have 3 yurts and brand new sauna for 16/17 winter.
What is the min group size?
Minimal group size is 2 persons for 2 nights.
What are the accommodation conditions?
You are staying in a national-style Kyrgyz yurt and share space with others. There is a nice Finnish wood stove which keep the yurt warm in the cold nights. We provide sleeping bags (-25C) and foam mats but it is highly recommended to bring your own sleeping bag. You can easily dry your skiing clothes and boot liners right in the yurt. Hot sauna and ice-cold river to wash yourself and get a good recovery.
Is there mobile network coverage at the yurt site?
Nope. Only satellite phone will work at the yurt site and all around the valley.
Is there any electricity?
Sure. We have a 220V generator. You can easily charge your radios, camera batteries or cellphones.
What gear should I bring?
Standard backcountry skiing gear if you are going for a camping trip. This includes skis or splitboard, boots, poles, skins, avy beacon and a few fresh battery packs, avy gear set (shovel, probe, beacon) and an airbag backpack if you have it. Skiing clothes, googles, gloves and helmet! Warm clothes to hang around the camp, camp boots. Radios (frs/gmrs or FM) with extra batteries or charger, camera, flashlight, sunglasses and sunscreen. Sleeping bag and inflatable mat. Some basic medical kit and personal stuff.
Meals
Full board meals include breakfast, lunch and dinner. Hot drinks through the day. Basically this is Slavic/European and National Kyrgyz kitchen. You can order a custom menu.
Water source
We use a clear spring water for drinking and cooking. Only boiled water available for drinking. We also cool down the boiled water and keep it in a huge thermos inside the chill-zone yurt.
Papers and visas
You don't need any papers or permits to come and ski the Aksuu yurt areas. Kyrgyzstan is visa-free country for most countries so you can get the 60 days tourist visa right in the airport.
How do I get to Karakol from Bishkek?
First you can get a taxi right in the airport and drive to Bishkek. We highly recommend to have a day or two in Bishkek and explore the city. Staying in Bishkek is easy – we recommend Southside guesthouse. Next you can book a taxi from Bishkek to Karakol or drive to the Eastern bus station and get a shuttle bus or marshrutka – it is about 6 hours drive (400km). We can also provide a transfer service on request.
© 2014-2022. All visuals are copyright of travel-kyrgyzstan.com and can be used upon personal agreement only.
Contact information
phone numbers/whatsapp: +996 555 447160
facebook: facebook.com/TravelKyrgyzstan
instagram: instagram.com/skiyurt.kg