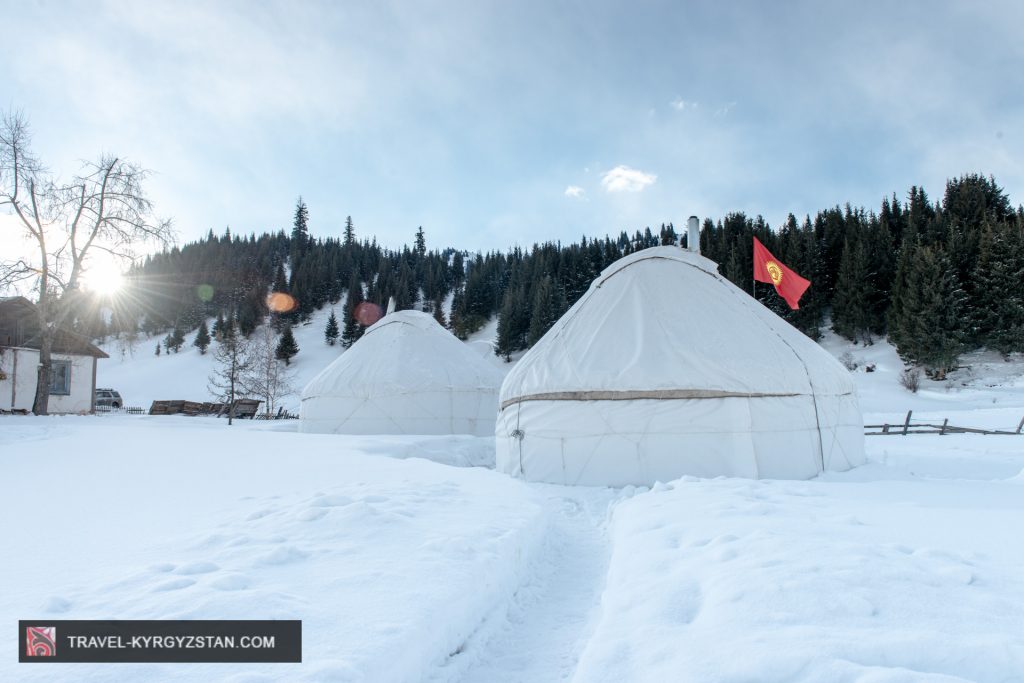 Backcountry skiing yurt lodge at Jyrgalan valley. The place with the tons of powder all over the winter season and endless adventure possibilities in summer. Contact us and book your dates now!
Property details
Official name: Jyrgalan Yurt Lodge
The lodge is running whole year around
Address: 14 Lenin street, Jyrgalan, 721806, Kyrgyzstan – directions
2 shared living yurts / 8 sleeping slots each / hostel-type staying
up to 3 private living yurts / 4 sleeping slots each max
Permanent onsite staff
Yurt lodge resources
Cozy warm and comfy staying in shared yurts
Onsite 220V electricity source
Free WIFI (a bit slow because the network coverage at the valley)
Breakfast, lunch and dinner included in the price
Sauna
Back country skiing and splitboarding all over Jyrgalan Valley in winter
Horseback riding walks/hikes (available on request) in summer in winter – starting from 1200 KGS/horse/day (add 2500 KGS for a guide)
Mountain bikes rental in summer
Semi-online camera at Jyrgalan Yurt lodge
Джергалан › Север: Jyrgalan Yurt Lodge
Refresh rate is 20 mins in the case of good internet connection at the site. Latest image available here.
Local area maps
Pricing for
WINTER

season

Group leader special discount is available.

Guiding service pricing

Only a certified avalanche safety and rescue group leaders are allowed to ski with their groups at the Jyrgalan Lodge areas. If you are a self guided then we highly recommend you to book IFMGA certified guide while booking your staying.
| GROUP SIZE | GUIDING SERVICE |
| --- | --- |
| 1-2 persons | 1 guide required: $150 USD per day |
| 3-5 persons | 1 guide required: $150 USD per day |
| 5-8 persons | 2 guides required: $300 USD per day |
| 8 or more | contact us |
Choose the desired amount of nights you want to stay at Jyrgalan Yurt lodge for a skitouring holiday. We will provide you with additional discount if you will stay for a week or more.
| PERSONS PER GROUP | PRICE PER PERSON |
| --- | --- |
| below 9 persons * | $80 per night |
| 10 or more | special price |
* minimum 2 persons
Pricing for
SUMMER

season

Shared and private staying options are available. Breakfast, lunch and dinner available as an option at the site. Please check actual pricing at booking.com: //www.booking.com/hotel/kg/jyrgalan-yurt-lodge.en-gb.html
---

























How to get to the Jyrgalan Yurt Lodge?
From Bishkek/Manas airport
Rent a car or get a private taxi (min 7500 KGS for minivan or min 14000 KGS for minibus) – 460 km and 6.5-7 hours drive.
From Karakol
– Private taxi is around 1000-1500KGS one way, 60km and around 1 hour drive
– Shared van / Marshrutka #331 at Ak-Tilek Market (Bazaar) – location map. Make sure that the bus goes all the way to Jyrgalan. Marshrutka runs 3 times a day all year around and costs 80 KGS per person.
Leaving times: 
Summer: 8:30, 13:30 and 17:30.
Winter: 8:30, 13:30, and 16:30.
Check walking directions from Jyrgalan bus stop to our Yurts location
Correct driving directions from Karakol Bazaar to Jyrgalan Yurt Lodge
Common details
It is around 60km from Karakol village to the East. When entering the Jyrgalan village you will come to a road cross with a few signs (see image  below) – you should turn left and follow around 200 meters.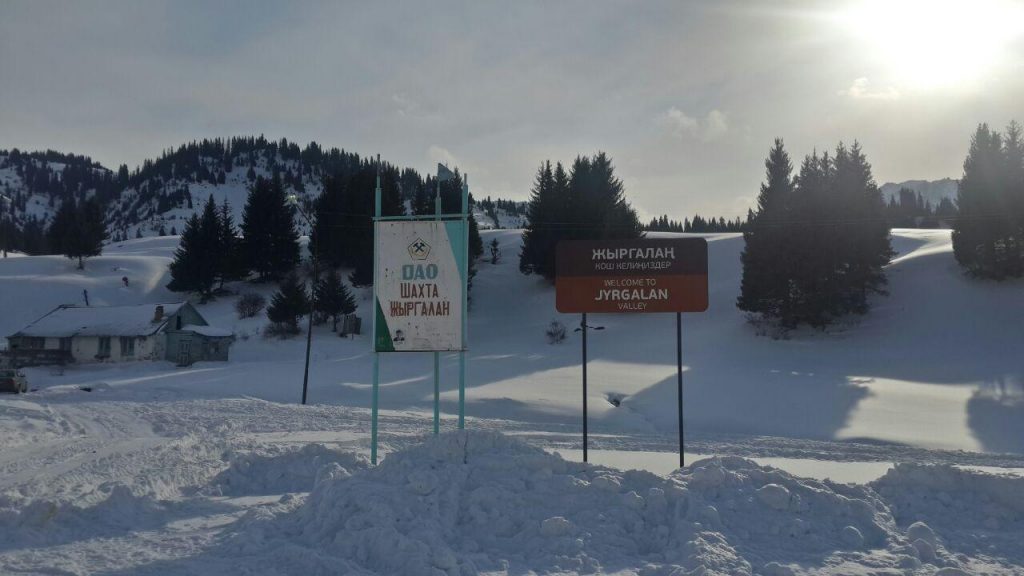 Address: Issik-Kul region, Jyrgalan village, 14 Lenin street.
See the map below. Here is the more detailed map.